Service List
Services
Service Calls
We make any on site service repair possible with our fleet of service trucks and equipment. With our large steel inventory, KII can fabricate and be on site for your repairs in very short order. We also have boom trucks, fork lifts, and other service equipment.
KII also deals with aluminum and stainless steels.
We currently have a service unit with welding capacity of 600 amps.
Eight portable welder/generator units.
53' van body semi unit for on site work station.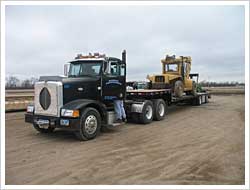 List of Service Equipment
Front-end loaders
Forklifts up to 15 tons
Several semis
Straight and drop deck trailers
Boom trucks up to 20 ton
Multiple service pickups
Various types of skid steers
Phone: 701-284-6194
Fax: 701-284-6200
Copyright ©2019, All Rights Reserved | Web site design and hosting by Virtual Systems