Service List
Services
Custom Fabricating
At Kringstad Ironworks we build almost anything that is requested. From drone launching systems for the U.S. Army to a bucket for your skid steers, a web mould for a wind generator blade or just a simple metal cutout for a decoration. These are a few of the little and big tasks that we have done in the past.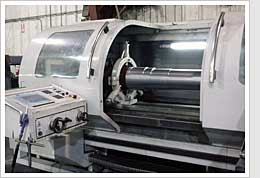 KII has top of the line equipment and there is very little that we cannot do ourselves. We build most of our own components for many projects, such as Web Moulds for LM Glasfiber, and Beet Pilers for many sugar companies.
Milltronics VM30XP CNC Mill
Purchased in the winter of 2007, this mill does a majority of our machining parts. With capabilities to hold up to 32 tools at once it cuts production time by remarkable amounts.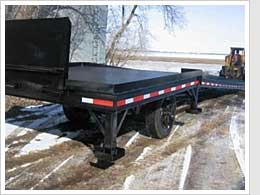 Pictured here is another example of a project that we have manufactured in the past. It is a ramp for skid steers to use when loading semis. It is ideally used for potato handlers, who have to fill refrigerated van trucks. The upward angle is perfect for climbing, and it also has tread plate to prevent slipping. Also there is a platform on top to allow the skid steer operator to turn around, so they may drive down forward.
Phone: 701-284-6194
Fax: 701-284-6200
Copyright ©2019, All Rights Reserved | Web site design and hosting by Virtual Systems